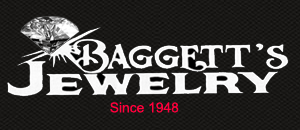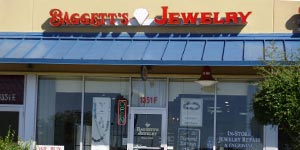 TESTIMONIALS

Mr. Baggett and his staff are always friendly, courteous and very knowledgeable about their inventory! If they don't have something in the store he will get it for you and find you the best deal in town! If you're looking for a gift this is the best place to go, there's something for everyone in the store! Prices are very competitive too! When I need repairs or cleaning Chris is my guy, service is always quick too! I would definitely recommend anyone stop here first!

Melissa Evans



I am always greeted by friendly and knowledgeable staff. The last time I went Jolly took the time to show me all the children's jewelry so I could find the perfect gift my daughter. She was so patient and kind! I will continue to buy and have my jewelry repaired only from here.

Laura Clark



I have bought multiple gifts for my wife at Baggetts. I have always found a good selection and received great customer service. I had a expensive solar watch that I did not purchase there break. They sent it off to the factory for repair. They always go out of their way to make the shopping experience great.

Michael Nettrour



Bill and his staff are great ,they are always courteous and friendly, I'd recommend them to anyone who is in search of fine jewelry!!

Drake Eastman



So patient and kind with our daughter when getting her ears pierced! First ear went like a charm! Second ear took a long time and a lot of patience that we were super thankful for them having!! Will continue to recommend and shop here! We have a happy 4 year old on our hands too! Thanks again!!

Amanda Hall



Excellent service and prices!!!!

Danny Gootz



My granddaughter Cali got her ears pierced and they were excellent in handling her. Thank you!!

P.S. The jewelry prices are great too!

Apostle Georgette Ward



I been buying from Baggett's Jewelry since I was 16 years old I am now 38 will see you soon thinking about getting a necklaces

Yashranda Butler



I love the new ring mrs gracie they have nice things i buy all my things there

Paula Bordeaux



I was very pleased with how professional owner Bill Baggett and his staff were in how they repaired my 1 carat wedding set. My ring had never been repaired properly at other jewelry store where I had got it repaired.

I love my ring now! It looks brand new better than it did when I purchased it. All prongs were re-tipped and my band was replaced with heavier band. My wedding set has sentimental meaning because it was given to me by my husband 35 years ago. Anyone looking for great service and great repairs on jewelry with fast turnaround time I highly recommend Baggett's Jewelry!


Ms. Helen Diane Williams - Autryville, NC



I purchased my 1.50 carat diamond ring from Baggett's because of the great deal I received, as well as the friendly service they provided during and after my purchase!

Bobbie Jo Yeager - Fayetteville, NC



Service was great! Chris Boyette did a beautiful job setting my diamond in a pendant he advised that I would love.

Mrs. Bobbie Allen - Faison, NC



I would like to mention that my first and only diamond engagement was purchased by my husband in 1955 from Baggett's Jewelry. I have had many compliments on it.

Jean Barefoot - Clinton



My name is Betty Bullard and I would to share that my husband Murray purchased my 14k white gold ruby fashion ring from Baggett's Jewelry in 1960 and it still looks as good as the day I got it. Mr. Bill Baggett polished and cleaned it recently at no charge and it looks spectacular. I have had many compliments on it thru the years. I recommend Baggett's Jewelry the place to purchase your jewelry!

Betty Bullard



"I am a fellow Sampson county person born and raised and I bought several things from ya'll over the years and ya'll are by far the best jewelry store with the best prices i would recommend ya'll to everyone.

Danyale Nees



My husband purchased my diamond engagement ring from Baggett's Jewelry 33 years ago and I have been very pleased with it ever since.

Debra Davis - Delway



I came in to see the Chamilia bead jewelry at Baggett's and I wanted to tell that I just received as gift in my family a 1 carat round diamond solitaire ring from my mother Ann Draughon. The diamond ring was purchased from Baggett's Jewelry by my mother in 1962. My mother always mentioned that she enjoyed shopping at Baggett's with the late Earnest Baggett when she was in town. Now I see the same qualities and favor in his son, Bill Baggett. My mother has really enjoyed wearing the diamond ring and it has maintained its same sparkle and glitter over the years. I plan to cherish it and hand down to my family.

Barbara Willis - White Lake, NC



I came to Baggett's Jewelry see Bill Baggett to customize a charm bracelet that I tried to get done at a competitor and I was not satisfied with their work. I was very pleased with the close attention Bill Baggett gave to the details of what I wanted done and he done it just the way I wanted. He also special ordered me a signet ring as a gift for the holidays. He sized and engraved it to perfection and I was very happy with that also. I highly recommend Baggett's Jewelry for any type of Jewelry and Jewelry repairs.

Sue Bell Jackson - Dunn, NC



I have been adding beads to a Chamilia bracelet that I received as a gift from Baggett's Jewelry and I love it. I also have a competitor's bracelet but I like Chamilia the best because it is more affordable, has a larger selection, and better quality. I have known the Baggett family for years and I trust and love their customer service.

Alice Faye Owens - Salemburg, NC



I purchased a men's 14K Gold wedding band for my husband for $20.00 in 1958 from Baggett's Jewelry. The band was very nice quality and had lasting beauty. I still return to do all my jewelry business with Baggett's Jewelry. Recently I had a ring sized and was very pleased with service done by Bill Baggett.

Mrs. Lena King






Copyright 2023 © Baggett's Jewelry. All rights reserved.